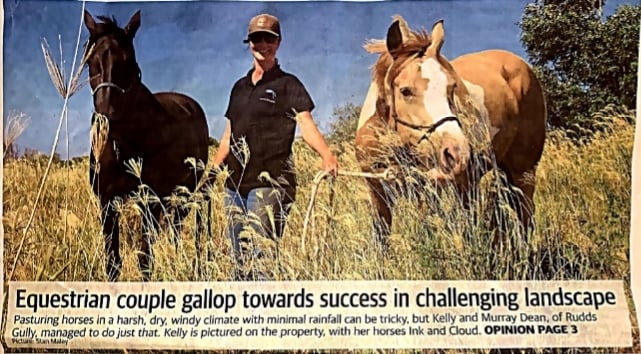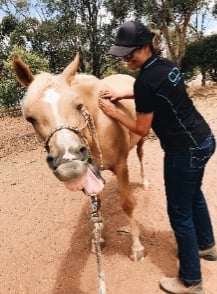 Kelly Dean - Cheval Dynamics
Based in Geraldton, Western Australia, provides services from Perth to Kununurra.
The business was founded in 2014 by Kelly Dean and provides professional certified services such as; Saddle Fitting, Bit/Bridle fitting, rider bodywork, equine bodywork, leatherwork/saddle alterations and repairs.
LANTRA Accredited Bit and Bridle Fitting Consultant through Horse Bit Fit Academy.
Kelly has travelled over Australia and to UK. Publicly spoken at Adelaide International 3 Day event and supported many fellow businesses at events, which is truly important to Kelly and enables her to provide a better service to her clients by providing them with a larger selection of equine goods such as saddles, bridles, bits and accessories.
Over the last 5 years Kelly has also spent a large amount of time working on rehabilitating arid land and adapting it to become suitable as equine pastures, resulting in a plot of land being successfully seeded with 3 types of rhodes grass. The area has become fully sustainable for the horses and allows them grazing all year round. The selection of grasses has solved problems such as grazing issues, erosion and has decreased the amount of co2 in the soil. The highlight of this achievement is that these plants required minimal rainfall to be sustained but is also a self-seeding plant. The outcome of this achievement has been greatly beneficial to many people in the area. Many horses have now got improved quality pasture which then has benefited their digestive systems.
Kelly is a believer in never stop educating yourself and looks forward to many years of improving the lives and wellbeing of horses who cross her path.

Social platforms:
https://www.facebook.com/chevaldynamics/ https://instagram.com/chevaldynamics
Contact: 0447652022 (Australia)
Email: chevaldynamics@gmail.com