PRICES
To Book A Consultation, Talk or Clinic, please check the Postcode Checker on the Home Page, and contact your local Consultant direct. Or Register your horse's Postcode on Contact Form opposite, or Text 07598 369974, and your details will be passed on to a Consultant in your area.
Below are the prices, and info on the "Horse Bit Fit" Stable and Ridden Consultations, Talks, Clinics.
Basic Talk - £12.50 (14 Euros) per person (minimum of 10, or £125/140 Euros) Can be held anywhere of your choice, stables, clubs, camps, even your home, local pub, village hall!! Anywhere people can sit in comfort, and out of the weather!! Any fee for venue to be met by yourselves. Talk will cover Basic Bitting, Fitting of Bridle up to how to get your horse moving as it should, and taking a contact comfortably.
Time 1hr to 1hr 30 mins depending on questions etc.
CPD Lecture/Demo/Extensive Talk. Can be held venue of your choice. Fee and Travel Expenses at Advanced Consultants discretion, minimum charge £200 (225 Euros)
All our Lecture, Demos, Extensive Talks are CPD Accredited
Stable Consultation - (NOT AVAILABLE AT PRESENT) £45.00 (50 Euros) per horse. "Horse Bit Fit" system of checks, to ensure Bit is fitted correctly, correct size, right way up (yes that matters!) sits correctly in the mouth, taking tongue, palette, lips and bars into acco4unt. Bridle checks, and adjustments. Discuss any issues, although most can't be solved on the day by Stable only. Time 30 mins depending on horse!
Ridden Consultation - £65 single horse (minimum charge for yard visit) or £602 horses or more.
"Horse Bit Fit" Stable check as above, (NOW OUTSIDE) then watching how the horse moves, how the Bit/Bridle are affecting movement, and affecting the horse in general. Showing how adjustments made affect the horse. Discuss any issues, perhaps recommendation of a different Bit to achieve what you want from your horse. Time inc Stable check, 90 mins (single horse) again depending on horse! 120 mins (2 horses) These are very approximate times, and will vary greatly with different horses, and their issues.
On any Booking/Consultation there is a Minimum Charge of £65. [Travel expenses may apply is some areas, please discuss this when booking. They will vary from area to area, and are not set by HBF]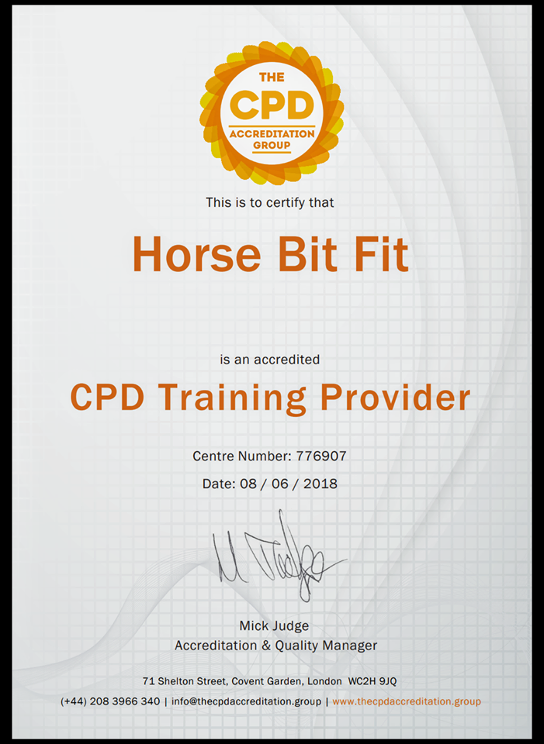 Join our Facebook Group, for lots of amazing reviews, and regular updates